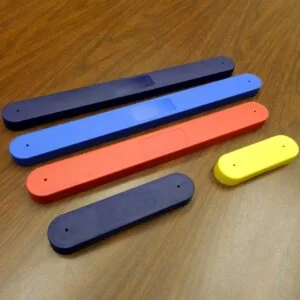 Battery terminal covers improve the appearance of a battery and assembled battery arrays, giving them a clean professional appearance. We manufacture these covers in a wide variety of standard and custom colors. Our covers are made of non-conductive polypropylene and provide protection from accidental electrical shock. The insulating properties help to prevent accidental short-circuiting of the terminals or the intercell connectors due to contact with metal tools or other conductive objects. Covering the terminals with a plastic terminal shroud also helps to prevent battery cables from snagging on them.
Battery terminal covers help to fight corrosion at the terminal connection by shielding them from splashed acid. In addition, they keep the terminals cleaner by shielding them from dust and debris. Covered battery terminals will protect worker's hands from lead exposure while performing routine maintenance. Most of our standard covers have a small access hole at both ends for checking the battery voltage without removing them.
How to Assemble Battery Terminal Covers
Our battery terminal covers have integrated retaining tabs to fasten them to the lead terminals. To assemble a cover to the battery, simply place it on top of the intercell connector or terminal and push down until it snaps into place. As a result, the tabs will snap underneath the bottom surface of the lead terminal, firmly securing it in place. To remove it, use a screwdriver or other tool to pry it upward to release the tabs. A special pry tool made for this purpose is available from us, part number SRT1.
Doyle Shamrock Industries has been designing and manufacturing battery terminal covers and shrouds for more than 20 years. We are a major supplier of battery manufacturers throughout the USA. We produce them in a variety of standard sizes, and we can manufacture a cover to fit virtually any battery terminal in existence. To view the measurements of any cover, select one of the PDF links below (your browser must be set to allow pop-ups). To receive a quote for any custom size, please contact us.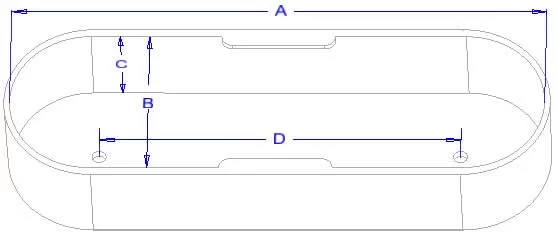 * Dimension units = inches
** When ordering, add the desired color suffix to the part number. Navy = Navy, R = Red, Y = Yellow, Blk = Black.
(Examples: SH00Navy, SH00R, SH00Y, SH00Blk)
Our standard battery terminal covers are made of polypropylene and contain no added fillers. Flame resistant halogen-free polypropylene (UL94 V0, RoHS and REACH SVHC compliant) is available upon request. Our battery terminal boots are made of flexible PVC material.
Battery Terminal Cover Specifications
Battery Terminal Protector Covers
| Part#** | Description | Image | | |
| --- | --- | --- | --- | --- |
| SRT1 | Shroud Removal Tool | | Price Inquiry | |
| SH180 | PVC Battery Terminal Cover | | View in Store | |
| CTS100R | 3.03 Length 90° Battery Terminal Cover with Side Window | | View in Store | |
| CTS100L | 3.03 Length 90° Battery Terminal Cover with Side Window | | View in Store | |
| D300BOLT-R90 | 6.01 Length 90° Stepped Battery Terminal Cover with Side Window | | Price Inquiry | |
| D300BOLT-L90 | 6.01 Length 90° Stepped Battery Terminal Cover with Side Window | | Price Inquiry | |
| D300R45 | 45° Stepped Battery Terminal Cover with Side Window | | View in Store | |
| D300L45 | 45° Stepped Battery Terminal Cover with Side Window | | View in Store | |
| D300R90 | 5.94 Length 90° Battery Terminal Cover with Side Window | | View in Store | |
| D300L90 | 5.94 Length 90° Battery Terminal Cover with Side Window | | View in Store | |
| D300U | 6.06 Length Battery Terminal Cover w/2 Removable Tabs | | View in Store | |
| D375U | 6.63 Length Battery Terminal Cover w/2 Removable Tabs | | View in Store | |
| D375BOLT-R90 | 6.76 Length 90° Stepped Battery Terminal Cover with Side Window | | Price Inquiry | |
| D375BOLT-L90 | 6.76 Length 90° Stepped Battery Terminal Cover with Side Window | | Price Inquiry | |
| D375R45 | 45° Stepped Battery Terminal Cover with Side Window | | View in Store | |
| D375L45 | 45° Stepped Battery Terminal Cover with Side Window | | View in Store | |
| D375R90 | 6.69 Length 90° Battery Terminal Cover with Side Window | | View in Store | |
| D375L90 | 6.69 Length 90° Battery Terminal Cover with Side Window | | View in Store | |
| D400R90 | 7.31 Length 90° Battery Terminal Cover with Side Window | | Price Inquiry | |
| D400L90 | 7.31 Length 90° Battery Terminal Cover with Side Window | | Price Inquiry | |
| D450R45 | 45° Stepped Battery Terminal Cover with Side Window | | View in Store | |
| D450L45 | 45° Stepped Battery Terminal Cover with Side Window | | View in Store | |
| D450R90 | 10.38 Length 90° Stepped Battery Terminal Cover with Side Window | | View in Store | |
| D450L90 | 10.38 Length 90° Stepped Battery Terminal Cover with Side Window | | View in Store | |
| DB375L | 5.28 Length PVC Battery Terminal Cover | | Price Inquiry | |
| DB375R | 5.28 Length PVC Battery Terminal Cover | | Price Inquiry | |
| EPCT100R | 90° Battery Terminal Cover with Side Window | | Price Inquiry | |
| EPCT100L | 90° Battery Terminal Cover with Side Window | | Price Inquiry | |
| FC375 | 5.875 Center-to-Center Length Fast Charge Battery Terminal Cover | | Price Inquiry | |
| FC300 | 2.375 Center-to-Center Length Fast Charge Battery Terminal Cover | | Price Inquiry | |
| S100U | 2.74 Length 90° Battery Terminal Cover w/2 Removable Tabs | | View in Store | |
| S100L | 2.83 Length 90° Battery Terminal Cover with Side Window | | View in Store | |
| S100R | 2.83 Length 90° Battery Terminal Cover with Side Window | | View in Store | |
| S100LN | 2.45 Length 90° Battery Terminal Cover with Side Window | | View in Store | |
| S100RN | 2.45 Length 90° Battery Terminal Cover with Side Window | | View in Store | |
| S100PVCL | 2.55 Length 90° PVC Battery Terminal Cover | | Price Inquiry | |
| S100PVCR | 2.55 Length 90° PVC Battery Terminal Cover | | Price Inquiry | |
| S100S | 2.91 Length Straight Battery Terminal Cover with Side Window | | View in Store | |
| S100U3 | 2.18 Length Battery Terminal Cover w/3 Removable Tabs | | Price Inquiry | |
| XS100L | 2.31 Length 90° Battery Terminal Cover with Side Window | | View in Store | |
| XS100R | 2.31 Length 90° Battery Terminal Cover with Side Window | | View in Store | |
| XS100S | 1.96 Length Straight Battery Terminal Cover with Side Window | | View in Store | |
| XS100PVCR | 2.46 Length 90° PVC Battery Terminal Cover | | Price Inquiry | |
| XS100PVCL | 2.46 Length 90° PVC Battery Terminal Cover | | Price Inquiry | |
| SH11277B | Negative Battery Terminal Cap (Black) | | Price Inquiry | |
| SH11277R | Positive Battery Terminal Cap (Red) | | Price Inquiry | |
| 103-3010 | Battery Terminal Cap | | Price Inquiry | |
| 103-1107 | Positive Battery Terminal Protector (Red) | | Price Inquiry | |
Intercell Terminal Covers
Battery Terminal Boots
Part #
Description
Image
BOOT-1-RED
Battery Terminal Boot #1 Red

Inside dimensions:
1.56"W x 4.25"L x 1.52"H
Hole diameter: 0.53"

To view all dimensions, select the
PDF icon to the right of the picture.
Price Inquiry
BOOT-1-BLACK
Battery Terminal Boot #1 Black

Inside dimensions:
1.56"W x 4.25"L x 1.52"H
Hole diameter: 0.53"

To view all dimensions, select the
PDF icon to the right of the picture.
Price Inquiry
BOOT-2-RED
Battery Terminal Boot #2 Red

Inside dimensions:
1.43"W x 3.00"L x 1.46"H
Hole diameter: 0.52"

To view all dimensions, select the
PDF icon to the right of the picture.
Price Inquiry
BOOT-2-BLACK
Battery Terminal Boot #2 Black

Inside dimensions:
1.43"W x 3.00"L x 1.46"H
Hole diameter: 0.52"

To view all dimensions, select the
PDF icon to the right of the picture.
Price Inquiry
BOOT-3-RED
Battery Terminal Boot Large Straight Red

Inside dimensions:
1.41"W x 2.31"L x 0.74"H
Hole diameter: 0.49"

To view all dimensions, select the
PDF icon to the right of the picture.
Price Inquiry
BOOT-3-BLACK
Battery Terminal Boot Large Straight Black

Inside dimensions:
1.41"W x 2.31"L x 0.74"H
Hole diameter: 0.49"

To view all dimensions, select the
PDF icon to the right of the picture.
Price Inquiry
BOOT-4-RED
Battery Terminal Boot Small Straight Red

Inside dimensions:
1.41"W x 2.31"L x 0.74"H
Hole diameter: 0.38"

To view all dimensions, select the
PDF icon to the right of the picture.
Price Inquiry
BOOT-4-BLACK
Battery Terminal Boot Small Straight Black

Inside dimensions:
1.41"W x 2.31"L x 0.74"H
Hole diameter: 0.38"

To view all dimensions, select the
PDF icon to the right of the picture.
Price Inquiry
BOOT-5-RED
Battery Terminal Boot Left Elbow Red

Inside dimensions:
1.79"W x 2.40"L x 1.00"H
Hole diameter: 0.70"

To view all dimensions, select the
PDF icon to the right of the picture.
Price Inquiry
BOOT-5-BLACK
Battery Terminal Boot Left Elbow Black

Inside dimensions:
1.79"W x 2.40"L x 1.00"H
Hole diameter: 0.70"

To view all dimensions, select the
PDF icon to the right of the picture.
Price Inquiry
BOOT-6-RED
Battery Terminal Boot Right Elbow Red

Inside dimensions:
1.79"W x 2.40"L x 1.00"H
Hole diameter: 0.70"

To view all dimensions, select the
PDF icon to the right of the picture.
Price Inquiry
BOOT-6-BLACK
Battery Terminal Boot Right Elbow Black

Inside dimensions:
1.79"W x 2.40"L x 1.00"H
Hole diameter: 0.70"

To view all dimensions, select the PDF
icon to the right of the picture.
Price Inquiry
0