Description
Our battery speed vent caps makes watering and checking fluid levels in a golf cart or forklift battery much easier! Instantly remove or install all vent caps at the same time! To install it, turn the handle counterclockwise until it stops. Then insert it down into the battery vent holes, and then twist the handle one-quarter turn clockwise until it tightens against the rubber seals. Likewise to remove it, simply twist the handle one-quarter turn counterclockwise and lift it out.
The acid-proof seals prevent any leakage or spills of the electrolyte. We have replacement speed vent caps to fit most batteries, including Trojan, US Battery, Rolls Surrette, Exide, Crown, and others. We manufacture speed vents in various sizes to fit both 3-cell (6-volt) and 4-cell (8-volt) batteries. The chart below shows the most common size for each battery manufacturer. Do not rely on this chart when ordering. Always measure your battery before ordering by following the instructions below.
Battery Speed Vent Caps Chart
| Model # | # of Caps | Cap ℄-℄ Distance | Battery Brand |
| --- | --- | --- | --- |
| 3-GVCA2.68-1070 | 3 | 2.68" [2-11/16"] | Crown, Interstate, US Battery, Surrette, Trojan |
| 3-GVCA3.31-1070 | 3 | 3.31" [3-5/16"] | Tulip |
| 4-GVCA2.5-1070 | 4 | 2.5" [2-1/2"] | Crown, Interstate, Tulip |
| 4-GVCA2.6-1070 | 4 | 2.6" [2-19/32"] | US Battery |
| 4-GVCA2.3-1070 | 4 | 2.29" [2-19/64"] | Trojan |
Be aware that some products advertised elsewhere as speed caps may be manufactured outside of the USA. Some of them may not contain a flame arrestor which is an important feature since all lead-acid batteries emit flammable hydrogen gas. Our battery speed vents are manufactured in the USA. They contain flame arrestors, and an independent lab has safety tested and certified them.
No more lost vent caps… Dropped vent caps always seem to bounce underneath something where they are hard to find. Or worse, they fall into a narrow space and disappear out of sight. The individual vent caps cannot be dropped because they are permanently attached to the assembly.
Patented design… The U.S. Patent and Trademark Office has awarded patent no. 9,461,287 to our battery speed vent caps.
The chart shown above is for general reference only. Therefore it should not be solely relied on to determine which model will fit on your battery. Please measure your battery before ordering. To determine which model you need, measure the center-to-center distance between vent holes on your battery (see Fig. 1). Then click on the "Choose an option" box above the "Add to Cart" button, and then select the correct model/distance in the drop-down list.
When measuring, keep in mind that the center to center distance of any battery cover can and will vary slightly during the manufacturing process, perhaps as much as 1/32 inch. Our battery speed caps are designed to accommodate that small variation.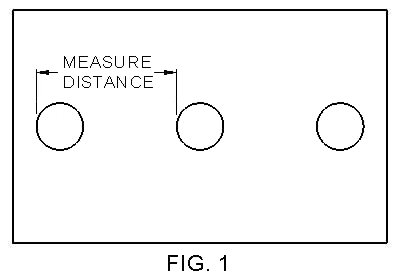 You may view the part drawing for all available models by clicking on the links below.
Speed Vent Cap #3-GVCA2.68-1070
Speed Vent Cap #3-GVCA3.31-1070
Speed Vent Cap #4-GVCA2.5-1070
Speed Vent Cap #4-GVCA2.6-1070
Speed Vent Cap #4-GVCA2.3-1070