Description
How to Choose the Correct Speed Cap Model
Please measure your battery before you place an order. To find out if you need a 3-cap or a 4-cap model, compare the number of vent caps on your battery with those in the chart shown below. Then remove two adjacent vent caps from the battery. Then measure the distance from the left edge of one hole to the left edge of the next hole on your battery (see Fig. 1). Then select the Choose an option box above the Add to Cart button, and then select the correct model/distance in the drop-down list.
When measuring, keep in mind that the distance between holes on most batteries will vary as much as 1/32 inch. Our battery speed caps are designed to fit that small variation.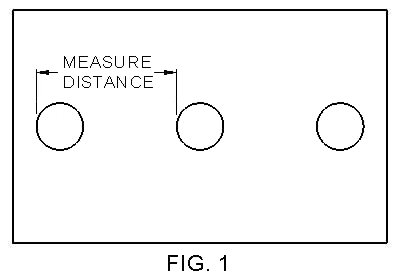 Battery Speed Vent Caps Chart
| Model # | Number of Caps | Cap ℄-℄ Distance |
| --- | --- | --- |
| 3-GVCA2.68-1070 | 3 | 2.68" [2-11/16"] |
| 3-GVCA3.31-1070 | 3 | 3.31" [3-5/16"] |
| 4-GVCA2.5-1070 | 4 | 2.5" [2-1/2"] |
| 4-GVCA2.6-1070 | 4 | 2.6" [2-19/32"] |
| 4-GVCA2.3-1070 | 4 | 2.29" [2-19/64"] |
You may view the part sketch for all our models by choosing one of the links below.
Speed Vent Cap #3-GVCA2.68-1070 drawing
Speed Vent Cap #3-GVCA3.31-1070 drawing
Speed Vent Cap #4-GVCA2.5-1070 drawing
Speed Vent Cap #4-GVCA2.6-1070 drawing
Speed Vent Cap #4-GVCA2.3-1070 drawing
Speed Caps Instructions
To install it, turn the handle counterclockwise until it stops. Then insert it down into the battery vent holes, then twist the handle 1/4 turn clockwise until it tightens against the rubber seals.  To remove it, simply twist the handle 1/4 turn counterclockwise, and then lift it out. Note- since there is only one handle on the 3-cap models, only one hand is needed to operate the handle. The 4-cap model has two handles, and both hands should be used when twisting the handles. Apply equal pressure to each handle when removing or installing the speed cap.
The acid-proof seals help to stop any acid leaks. This helps to keep the top of your batteries dry. We have speed vent caps to fit most brands, including Crown, Interstate, US Battery, Rolls Surrette, Trojan, Tulip, Exide, and more. We make speed vents that fit both 3-cell (6-volt) and 4-cell (8-volt) batteries. To choose the correct size, please measure your battery before you place an order by following the steps above.
Our battery speed vent caps make the task of adding water and checking the fluid level in golf carts or forklift vented batteries much easier! It allows the speedy removal of all vent caps at the same time! Instead of removing the individual vent caps one at a time, this invention lets you remove them all at once, speeding up the process of removing and replacing the battery caps. The speed caps are the most efficient way for venting a battery and performing routine maintenance. It lets you spend more time golfing and less time working.
Please be aware that some products sold elsewhere as speed caps might not be made in the USA. Hence, some of them may not have a flame arrestor. This feature helps you be safe since all lead-acid batteries emit hydrogen gas. Further, our speed vent caps do have flame arrestors and have been safety tested and certified by an outside lab. Also, our battery speed vents are made in the USA.
No more lost vent caps! When battery vent caps are dropped, they always seem to bounce under something where they are hard to get. Or worse, it falls into a small space where you cannot see it. The speed vent caps cannot be dropped since they are attached to the assembly.
Patented design! The U.S. Patent Office has granted patent no. 9,461,287 to our speed vent caps.
HOW THE SPEED CAPS WERE DESIGNED
Our speed vent caps were designed with the latest technology and high-end CAD software. Each speed vent assembly is made up of multiple parts including the caps, flame arrestors, rubber washers, handles, and arms. Each part was designed for supreme strength and quality.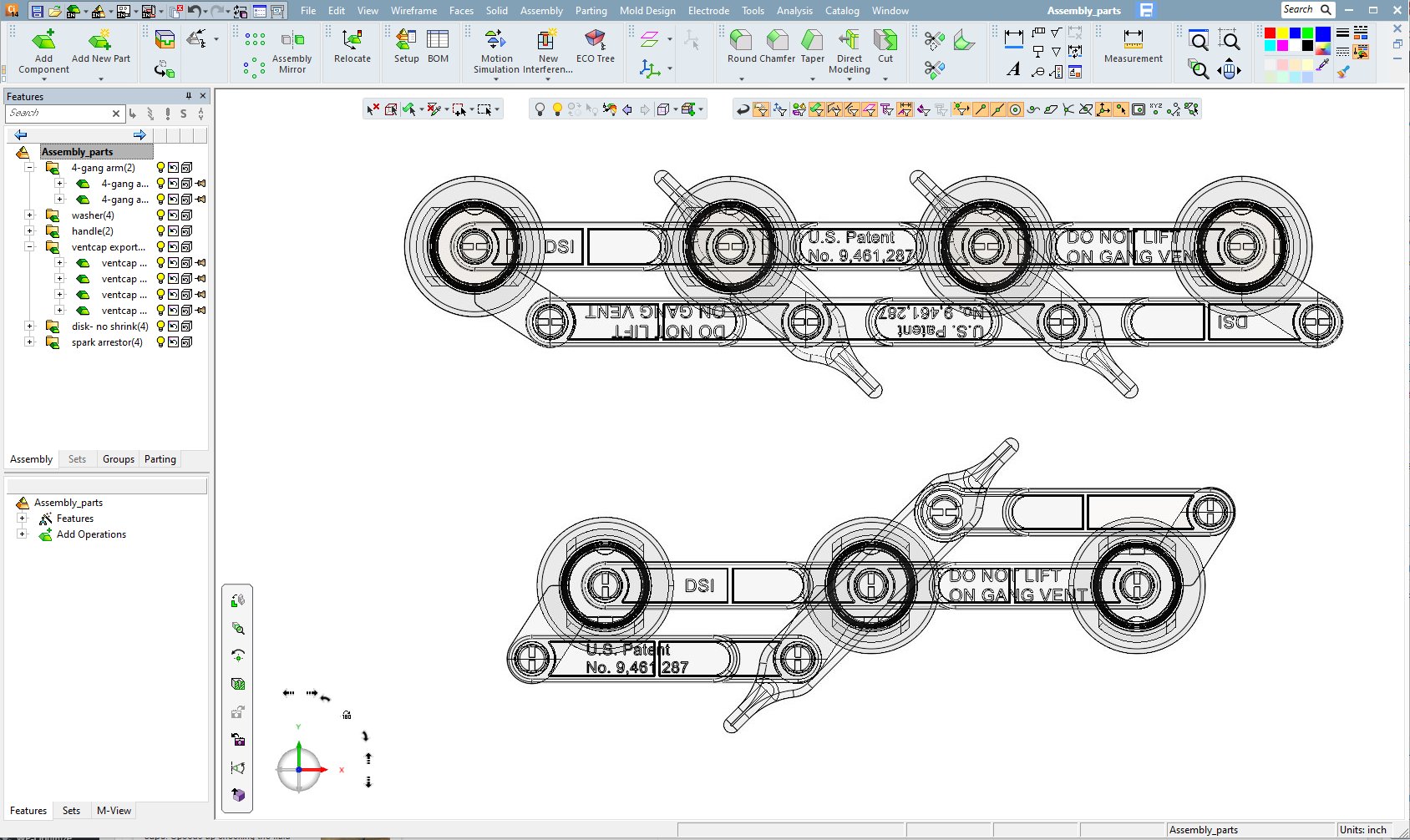 After the design phase of our speed vent cap was done, a mold was then designed for each part. The mold shown below is an 8-cavity tool that makes the speed caps for both the 3x and 4x models. It was designed by an engineer with over 40 years of design experience. This tool was then built in our machine shop by our experienced toolmakers using high-speed CNCs and other machines.
When the speed caps are scheduled for production, the mold is moved to our molding room where it is placed in an injection molding press. The speed caps are then produced at the rate of about 8 every 30 seconds or less.